Press Release Abduction of Saad Jegranvi at the Hands of Kiyani's Thugs Will Not Delay the Establishment of Khilafah
بسم الله الرحمن الرحيم
Hizb ut Tahrir Holds Country-Wide Demonstrations against the Abduction of the Head of its Central Contact Committee
Hizb ut Tahrir / Wilayah Pakistan held country-wide demonstrations against the abduction of Saad Jigranvi, a member of Hizb ut Tahrir and the head of its central contact committee. Protesters carried banners and placards declaring, "State's abduction of member of Hizb ut Tahrir Saad Jigranvi can not delay the establishment of Khilafah "Caliphate"" and "Traitors in political and military leadership are persecuting sincere callers of Khilafah "Caliphate" with state terrorism on American instructions." These demonstrators condemned the abduction of Saad Jegranvi, whilst demanding his immediate release.
Demonstrators viewed Kayani as being frustrated due to growing opposition against him and the increasing popularity of the Khilafah "Caliphate" in the masses as well as the armed forces, causing Kayani and his American masters to lose their mind. So now they have stooped to the level of such inhuman tactics, abduction and torture.
Demonstrators expressed their determination that the abduction of Hizb ut Tahrir 's Spokesman in Pakistan, Naveed Butt, and the registration of false and baseless cases against its Shabab could not scare or slow down Hizb ut Tahrir and its Shabab. And now the abduction of Head of the Central Contact Committee, Saad Jigranvi, will neither frighten 000 or its Shabab, nor will it force the 000 to slow its activities. They reminded Kayani and traitors in the political and military leadership of the demise of Qaddafi and Hussni Mubarak and warned that the soon to come Khilafah "Caliphate" will account them severely for their treachery and oppression against Islam and its Ummah.
Demonstrators shouted slogans against Kayani and traitors with in political and military leadership. At the end of the demonstration people dispersed peacefully.
Note: On 26 November 2012, Kayani's thugs seized Saad Jegranvi, member of Hizb ut Tahrir and head of the Central Contact Committee, shortly before maghrib at Sherpao bridge, Gulberg Lahore. A father of seven children, Saad called his widowed elderly mother to confirm that he had been taken by agency thugs. Saad Jegranvi is a prominent influential within Lahore from a highly renowned and respected family, the Jegranvis.
Picture Slideshow: Click Here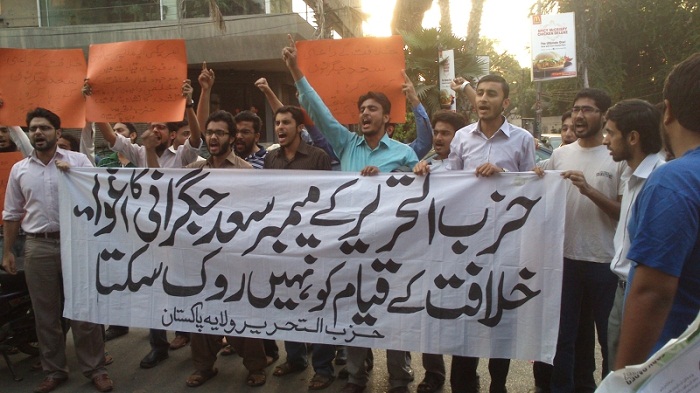 The Media Office of Hizb ut Tahrir in Wilayah of Pakistan
Image Gallery
back to top