بسم الله الرحمن الرحيم
Hizb ut Tahrir/ Wilayah Turkey Protest
"We will not Give Up East Turkestan!"
The brutal Chinese regime continues its massacres and atrocities in East Turkestan, which it has occupied for decades, without slowing down. The Chinese government, which has imprisoned millions of Muslim Uighurs in concentration camps under the so-called education, uses torture as a weapon and wants to dissuade East Turkestan Muslims from their Islamic identity.
Encouraged by the silence of the rulers at the head of the Muslims, and even by the open support of some, the communist oppressors are getting more and more furious. This time, Red China is committing a crime against humanity against the Muslim Uyghur people, using the pandemic as an excuse. In East Turkestan, especially in the city of Ghulja, Uighurs have been imprisoned in their homes for months, with their doors closed from the outside. Video footage from the region shows that many people who are not allowed to meet their needs, especially food and medicine, face starvation, and some people whose children fainted from lack of food die at home.
Hizb ut Tahrir/ Wilayah Turkey organized two protests Mehmed Al-Fateh Mosque in Istanbul and at the Haji Bayram Mosque in Ankara to defend our Muslim brothers in East Turkestan against the atrocities committed by the criminal Chinese regime, and to call upon the rulers in Turkey in particular and the other rulers in Muslim countries in general to stop their silence and move in support of the Muslims of East Turkestan.
Friday, 20 Safar 1444 AH - 16 September 2022 CE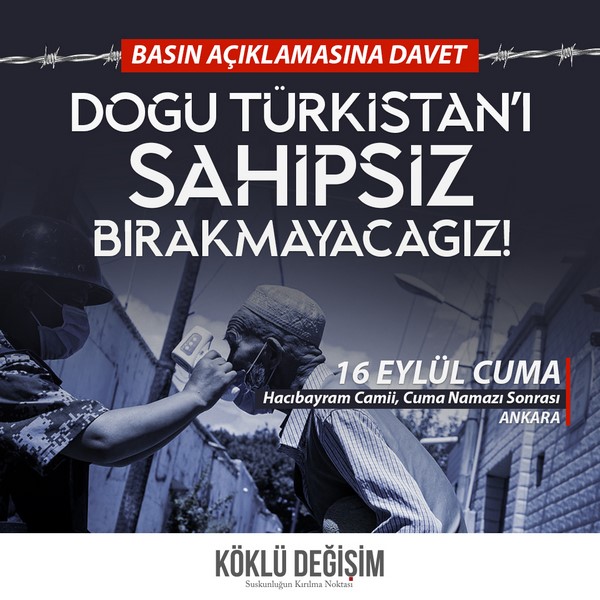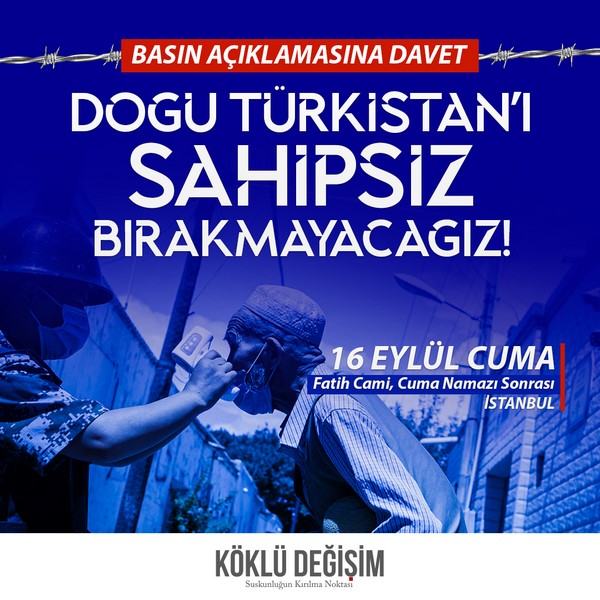 - Sidelines at the Protest at Haji Bayram Mosque in Ankara -

- Sidelines at the Protest at Mehmed Al-Fateh Mosque in Istanbul -

More Details, Visit Websites of Hizb ut Tahrir / Wilayah Turkey:
Official Site: Hizb ut Tahrir / Wilayah Turkey
Facebook: Hizb ut Tahrir / Wilayah Turkey
Twitter: Hizb ut Tahrir / Wilayah Turkey
Instagram: Hizb ut Tahrir / Wilayah Turkey
YouTube: Hizb ut Tahrir / Wilayah Turkey

back to top