بسم الله الرحمن الرحيم
Women's Section in the Central Media Office of Hizb ut Tahrir Launch an International Campaign:
"Real Change is ONLY Through the Call for Khilafah"
Real Change is Only Through the Call for Khilafah
Campaign Launch Video

The world is in chaos. Nations are plunging from crisis to crisis under man-made systems – all of which have proven incapable of solving humanity's problems. Poverty, financial insecurity, starvation, genocides, brutal occupations, dictatorships, senseless wars, family breakdown, destructive lifestyles, crime epidemics, violence against women, health and education crises and other crippling problems afflict lands across the globe.
How do we end all this? How do we get out of this quagmire?
REAL CHANGE cannot be achieved by recycling failed systems – democracies or otherwise. Real change cannot be achieved by making a few minor changes to flawed systems which are currently implemented, or gradual partial change – just chipping away at the edges of problems, or providing sticking plaster solutions.
It requires RADICAL, FUNDAMENTAL and COMPREHENSIVE CHANGE. It requires the birth of an alternative system that holds real solutions to humanity's problems. It requires for us as Muslims to return to what Allah (swt) has called us to – His Laws, His System, and to adopt our Islamic message, to establish the true leadership for humankind: the Khilafah (Caliphate) based upon the Method of the Prophethood.
This Rajab, the Women's Section in the Central Media Office of Hizb ut Tahrir has launched a global campaign entitled: REAL CHANGE IS ONLY THROUGH THE CALL FOR KHILAFAH. It will address how the Khilafah based upon the method of the Prophethood will transform chaos and loss of the current Muslim situation into revival and show the responsibility they have to find real change in their country and the world at large. The campaign will also address whether radical change and the establishment of the Khilafah is a pipedream or truly feasible.
We invite everyone who wishes to see a brighter future for Muslim countries and this world, to support this important campaign, which can be followed at these links:
www.hizb-ut-tahrir.info
Facebook – WOMENSCMOHT
Twitter – @WomenForKhilafa
Instagram – @WomenShariah5

Dr. Nazreen Nawaz
Director of the Women's Section in The Central Media Office of Hizb ut Tahrir
Monday, 01 Rajab Al-Muharram 1444 AH - 23 January 2023 CE

To Follow the Campaign in Other Languages

Message by Dr. Nazreen Nawaz
Director of the Women's Section in The Central Media Office of Hizb ut Tahrir
On the occasion of the 102nd anniversary of the destruction of the Khilafah
Monday, 01 Rajab Al-Muharram 1444 AH - 23 January 2023 CE

Follow & Share the Campaign Hashtags
| | | |
| --- | --- | --- |
| #ReturnTheKhilafah | #KhilafahBringsRealChange | #EstablishKhilafah |
| #YenidenHilafet | #HakikiDeğişimHilafetle | #Time4Khilafah |
| #كيف_تقام_الخلافة | #أقيموا_الخلافة | #بالخلافة_يحصل_التغيير_الحقيقي |

Monday, 01 Rajab Al-Muharram 1444 AH - 23 January 2023 CE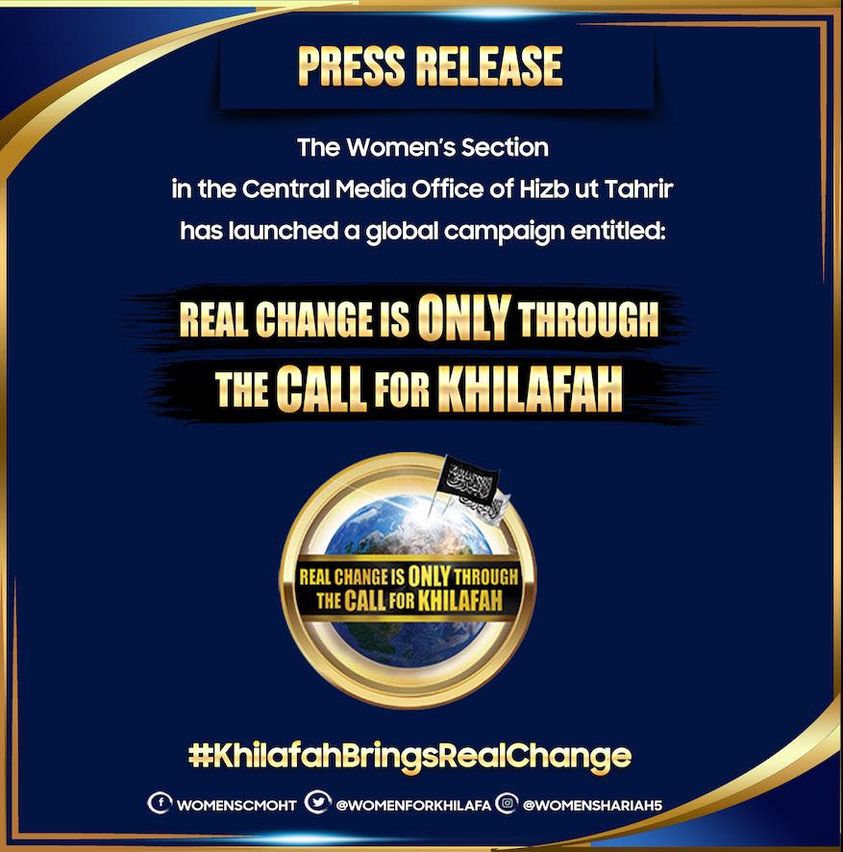 Click Here to Follow the Campaign by the Central Media Office of Hizb ut Tahrir:
Global Events of Hizb ut Tahrir for the Destruction of the Khilafah 1444 AH – 2023 CE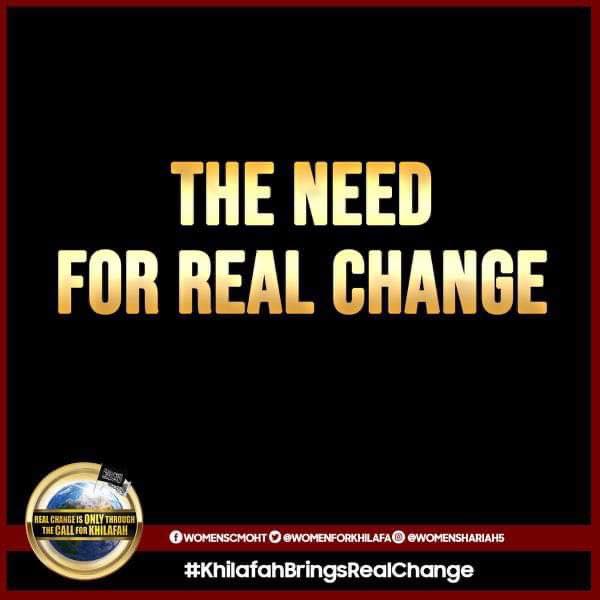 Articles

#KhilafahBringsRealChange #Rajab #RealChange #Khilafah #Democracy #Islam #IslamicSystem #Capitalism #Revival #WorldInCrisis



back to top