بسم الله الرحمن الرحيم
Hizb ut Tahrir / Australia

Events marking the Centenary for the Destruction of the Khilafah
With the guidance of the Ameer of Hizb ut Tahrir, Eminent Scholar Ata Bin Khalil Abu al-Rashtah, may Allah protect him, Hizb ut Tahrir has launched a global campaign marking the 100 years in the Hijri calendar since the destruction of the Khilafah State (Caliphate), 28 Rajab Muharram 1442 AH / 2021 CE, and on this page we will cover the activities organized by Hizb ut Tahrir / Australia as part of the global campaign launched by Hizb ut Tahrir.
Saturday, 01 Rajab 1442 AH corresponding to 13 February 2021 CE

Read the Press Release from the Media Office of Hizb ut Tahrir in Australia
Australia: 100 Years without Khilafah. Re-establish it O Muslims!
07 Rajab 1442 AH - 19 February 2021 CE


Al Waqiyah TV
Talks on the Centenary of the Destruction of the Khilafah

-For whom is this good news? -
Ustaadh Nabil Hegazi / Australia
Saturday, 29 Rajab 1442 AH - 13 March 2021 CE
- The Obligation upon the Ummah to Re-Establish the Khilafah! -
Sister Tsuroyya Amal Yasna / Australia
Monday, 17 Rajab 1442 AH - 01 March 2021 CE


Thoughts: On the Centenary of the Khilafah's Demolition!
Ustaadh Wassim Doureihi
Member of the Media Office of Hizb ut Tahrir in Australia

Thursday, 06 Rajab Muharram 1442 AH - 18 February 2021 CE

Seminar marking the Centenary of the Demolition of the Khilafah
Friday, 07 Rajab Muharram 1442 AH - 19 February 2021 CE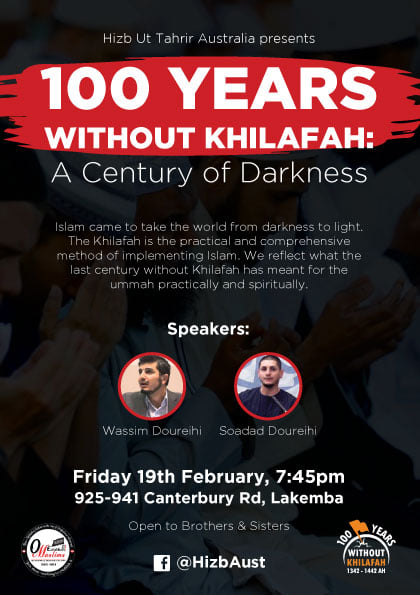 Follow Campaign Hashtags

#خلافت_کو_قائم_کرو
#أقيموا_الخلافة
#ReturnTheKhilafah
#YenidenHilafet
back to top